Anthro's
Verdant Slip Dress
just came out in a new colorway, teal-ish blue.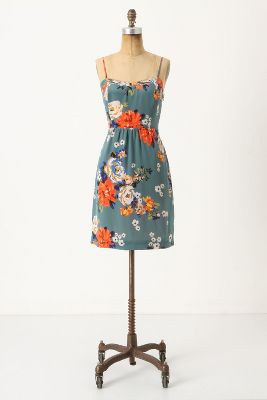 Blue colorway on the left, original green (methinks seafoam) colorway on the right. I'm addicted to seafoam green, so I much prefer the original... however, I tried on the
Reflecting Pool Dress
, which is an exact twin except for the print, and wasn't much enamored with the fit of the slip style. I felt weirdly under- AND over-dressed in a casual, skimpy summer sundress made of silk.
Still, seafoam green floral... I'm tempted to compare it with my seafoam green floral silk scarf, actually. (Thrifted from the amazing Atlantic Canadian chain Frenchy's, the
only
--and thankfully decent--shopping in rural Nova Scotia.)