Went to Anthro today, with a friend whom I'm slowly addicting to the store. :D And I didn't buy anything!
First, got a birthday coupon PA [price adjustment] on the
Carica Bag
in beige, which I received today. It's almost huge, which I love but is also a little intimidating at the same time. I will bring it to school, but it doesn't really work with a backpack--too large to carry as a handbag, and over my shoulder is too bulky with my backpack at the same time.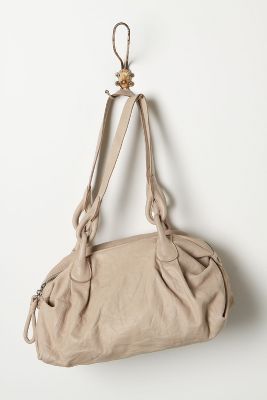 But it's a classic slouchy satchel shape, holds a TON, and I got a great deal: $85, originally $178. (I ordered a charge-send from California with free shipping, but when I got my 15% price-adjustment, it also took off the tax that I had to pay in CA. Hooray!)
Also returned the
Blurred Bands Belt
, which I'd picked up last weekend on a whim but was too big to wear at my waist.
And finally, I tried on a
lot
of tops, plus the
Sagebrush Skirt
. I tried a 4 but really need a 6 in the skirt, but decided that $70 was too much to pay, regardless. LOVED the
Expanding Universe Tank
in red XS, despite mixed blogger reviews--my theory is that it's designed for small-busted women, because the neckline will pucker if it's at an angle. Not a problem for my flat chest, I just needed to straighten it out and it stayed perfect. The red colorway reminds me of Canada, my native land, so it's even sentimental!
I re-tried the
A-Bit-Unruly Top
in green, size XS, but though there wasn't anything really wrong with it, it just seemed too simple for a $30 top. I'd much rather wait for the Expanding Universe Top to go on sale, and I'll snatch it up at first cut. Also retried
The Gathering Tank
, this time in lavender, and determined that I can't make the size small work (bust is huge). But the raw edges still bug me and I very much doubt this top will make it to second cut. The
Sidebent Tank
, similar to the failed
Expanding Horizons Tank
, is a better fit but still not perfect. Contrary to online reviews, for me it ran a little big--long, rather than wide--because the armholes dragged down in the XS. I like my tops fitted, so I didn't notice tightness in the torso area. The design is honestly kind of boring, though.
More tops...
Loosened Shelby Top
desperately needs to be sized down, but I didn't bother trying the 0 because the neck-ties were really funky. Too bad, because the navy bird print is really cute. I disliked the mannequin shape of the
Alchemilla Tee
, and didn't like it any more on me. It makes me look hippy, miraculously, but not in a good way (i.e. by making my chest look even tinier). Loved the flowiness of the
Talauma Tunic
, but it's sold out in XS
and
S both in my store and online. I'll consider it on sale if/when I can track down an XS to try.
Hanging Garden Top
was, by no means, an effective substitute... just huge. This is when I wish I was able to size down in tops--instead, I'm usually sized out of the flowy stuff. I sized down to a 0 in the
Finding Roses Blouse
(now on second cut for $20), but it was still too big.
P.S. Insights from trading clothes with my hourglass friend: Expanding Universe Tank doesn't work on >B cup, I suspect.
Cirque A-line
(aka "the elephant dress") has a crappy zipper, just like its
sweetly singing
predecessor. The beautiful
Artist's Rendering Dress
really doesn't work on petites in non-petite sizes, even if you're an hourglass (she was able to take the 2; I went up to a 4 to squeeze my waist in, and the top was a mess; but on both of us, the straps were too long and caused gapping).