So here is what I ordered from Anthro's tag sale! The
Seasons Change Cardi
popped out of stock while I was deliberating, but since I wasn't totally in love (no front buttons for warmth, this summer I'll be working in a FREEZING COLD office), it didn't faze me. By the way, the cardi came in three colorways even though only one is left online: white, brown, and a beautiful teal. But I already own a teal cardigan--cashmere, Gap, baggy but looks fine open and cashmere will be warm enough.
I ordered three skirts, but two are navy so I will only be keeping 2/3 at most. Plus two belts (actually four belts since one is a set of there) that sadly didn't qualify for the extra percentage off. It came just over $52; I dropped a $10 necklace at the last minute because I have way too much jewelry and I knew I'd never wear it.
Going under a cut-tag because I got wordy again...
( Tag Sale Round 3 )
Finally, a bonus: agonizing over the Eyeleted Corset Top, which I purchased in-store at the full price of $98 (+no tax, thanks DE!) before leaving for Canada. My store only had a few sizes left in backstock and none out on the floor; I'm sure it would be difficult now to track down a size 2, long sold-out online. I think the 4 currently available online is just 1 popback.
Eyeleted Corset Top
by Floreat (
reviews
; see also
Effortless Anthropologie
,
Erato's Closet
--
and again
)
purchased size 2 for $98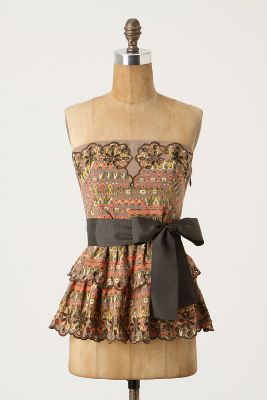 This top has gotten surprisingly little love from the blogosphere. I've been wanting a corset-style top for a while--up to and including a real steel-boned corset from Otakon--and I love the eyelet detail. However, $100 for a top is ridiculous (compare with my Trollbeads bracelet with one charm, which I wear every single day layered with my watch) and since I own no orange (see above) I suspect this will be hard to style. Need to try it on some more when I get home, but it is probably going back. Maybe I'll keep the Snapdragon Belt as an alternative Anthro splurge.
I tried on both size 0 and size 2--no size 4 available--and was able to zip up both, but preferred the looser fit of the 2. It fits me well, though smooshes down my already-flat chest, because of my comparatively large ribcage. Back of bodice is smocked; bodice itself is very well-constructed. Super-flattering and gives me a waist. But--colors and price are a no-go. I don't think mine came with straps, but perhaps I just forgot about them. Here's a gratituous catalog shot: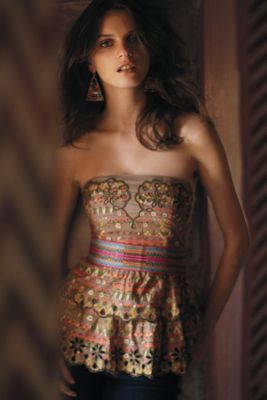 By the way... for my birthday last month, I walked into my local Anthro with my mom and was prepared to pay full price for a gorgeous, versatile dress. I found the
Overwhelmed Aster Dress
(perfect fit in size 2 regular) to be gorgeous but terribly impractical; others that I tried on were all meh. I ended up buying the
Magnified Corolla Dress
for a sweet $30 (third cut, I think) at the register, even though the tag said $90. I am having the lining altered in China so I would probably have returned at $90, but for $30, the print is just lovely. I predict it will look amazing with the Snapdragon Belt. I purchased in size 0 because there was no 2 left and I didn't want to size up to 4. (This was on a different trip than the corset top, or the Inkwell Skirt... I visited Anthro three times in two weeks, I think.)
I am really itching to purge and re-organize my closet. Unfortunately I get home next Saturday afternoon and start work on Monday.