Overall, I really like
Heartsy.me
(referral link), which is a group-buying daily deal site for handmade goods from Etsy and elsewhere on the web. It's different from Groupon in that there is no initial "tipping" point, but there's also a strict limit to the number of vouchers available for each deal.
I've purchased two Heartsy vouchers so far, both for Etsy, and it's really easy to check out with them. However, I ended up getting one of the vouchers refunded and had to argue with customer service by email for several days... so, I still recommend them, just be aware that they will make it difficult to get your money back and think of it as final sale. I did get my refund in the end by being persistent and aggressive. (The voucher was for custom-made clothing, and more expensive than most of Heartsy's deals, or I wouldn't have bothered.)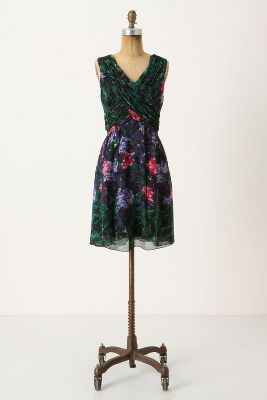 Secondly... somehow I managed to miss Anthro's Blurred Hydrangea Dress on second cut and only just noticed it on third cut to $50 from $400... obviously, it's all sold out by now. But I am willing to pay the second cut price of $100 for a size 0 or 2... maybe 4 if it's cheaper than $100 and will come out equivalent after alteration costs.