Here is the cute B&W striped dress I bought a few weeks ago from Forever 21 for $22.80. I think a lot of their clothes are overpriced for the quality, but this dress is all cotton and has real self-fabric belt loops (although the skirt hemline is pretty messy). The belt is really poor quality but easily swapped out.
Striped Dress w/ Belt
I usually wear a 2 in dresses at Anthropologie (0 in tops, 4-6 in skirts) and the size S fit well. It's a tad too long in the shoulder, but I'm petite and short-waisted so that's a typical issue for me. It DOES pass the bend-over test on my 32AA chest. The length feels a tad longer than 33", probably closer to 34" or 34.5".
I picked it up immediately because it reminded me of Anthro's lovely Monochromatic Corset Dress, albeit minus the corsetry detail: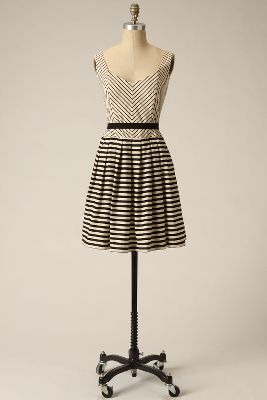 Anthro's version is more unique, of course, but also dressier and probably not machine-washable (line dry, and I'd recommend sticking to that unless you don't mind shrinkage).