I want to preface this post with a disclaimer: I don't normally fall in love with shoes. I admire their design, but the prettiest shoes are always unwearable high heels. I do have a problem with buying shoes just because they fit and not because I love them, but I blame that on the genetics that decided to gift me with tiny feet. (My mother's feet are the same length but significantly wider, so she can wear size 6-6.5. I'm a tiny bit wide in the front, but my heels are too narrow to stay in pumps that are too long.)
However, the new Anthropologie July catalog just came out... and I am in LOVE with these
Bookbinder Heels
.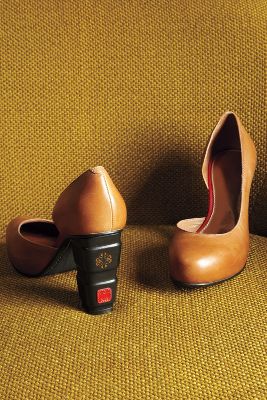 The sad part is... these have an infinitesimally small chance of making it to sale in my size. Already--and these are practically a brand new release online--there's only 3 pairs left in stock online. And my local Anthro doesn't carry shoes unless they're returned, so unless I make a special trip, I can't even try these on.
Honestly, I'm also a little afraid to try these shoes on... I have a birthday discount to spend in July--my birthday was in May but I never got a coupon, turns out they had my mom's July birthday in the system instead--but these shoes cost $140 even with the discount. And I'd be afraid to wear them in any kind of not-perfect weather, for fear of ruining the heels.
EDIT: In EA comments, someone mentions that these shoes/this brand runs long in length and narrow in the toe box--exactly the opposite of what I need (I would love to find a 5.5 or even a 6 that runs short, because it's more common than a size 5, and my toes are slightly wide).